Deciding on your project colours…
The colour selection process for exterior and interior is an exciting part of any project.  It can also be a little daunting for some as there are so many colour choices out there with hues, shades, tones and tints.   I loved this phase when designing and building our dream home…working our way through interiors, exterior, bench tops, cabinetry, flooring, driveway stone the list goes on!  To help you on your colour journey, here's my take on some areas to consider when choosing colours! To work alongside you…I can thoroughly recommend the website Coolors , which has a colour scheme generator.  You can even upload images of furniture, artwork and fabrics and it will suggest a range of room colour palates for you!
Top tips…
Understand colour terminology . Hues, tones, tints, shades…there's so much depth of colour available, understanding these colour categories will help determine complimentary colours and pull together a scheme. Check out my easy explanation / terminology below.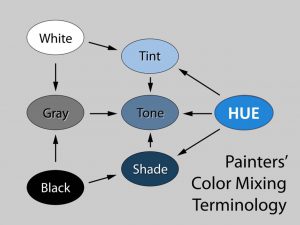 2. Understanding colour psychology.  There is an energy in colour and we all have our favourites making colour choice deeply individual.  Colour has an effect on your well-being , so translating colour theory to interior decor means we're more in-tune with the colour selections we make having reflected on our human sensitivities to colour.  The right colours in the home can give flow to a room, tell a story and create a real connection with our environment.  As a general rule warm colours bring radiance and cosiness to a room whilst cooler colours such as greens, blues and teal have a real soothing effect.   Choose colours for kids bedrooms and your own space that energise and uplift – not all colours do!   To find out more about colour psychology and what different colours can evoke read more here.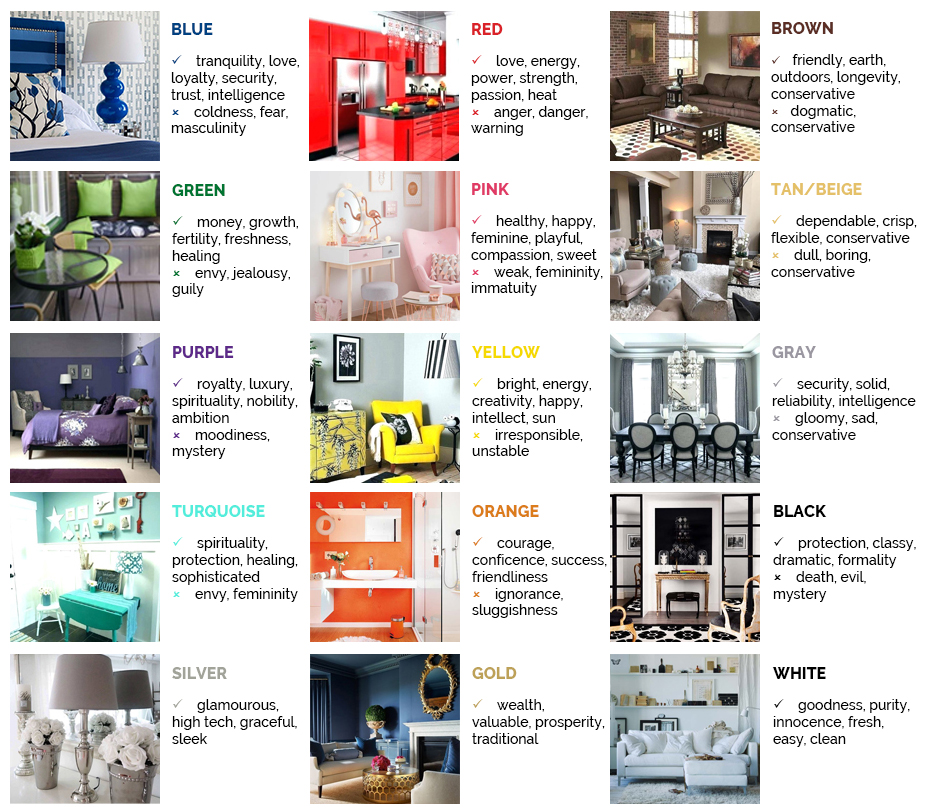 3. If you want a space to appear bigger use similar lighter colours or soft neutral tones.  Using similar tones for walls and floor is what we call a tonal or monochromatic scheme and it enhances a room to feel much bigger than reality! Opposing this with darker colours can make a room feel smaller , more intimate and cosy which is great if your want to achieve this for media rooms, formal lounge, fireplace or study.  Its all about creating a balance of these spaces within your home. To achieve this effect you have to work from the ground up, then focusing on the large surfaces and experimenting with different hues and textures.  For the latest colour trends click here.
4. Four wall or Feature wall colour?  Four wall colour can be a vibrant and fun expression of colour, —experiment to see what works—you may be surprised!   For larger open plan spaces wall colour can help define a room and pull a scheme together.  Equally in small areas with limited light, a brighter four wall colour approach can really lift a space.   Feature walls can also complement a space giving you a chance to add texture or patterns in a more sublte way than all four walls.  Choose the right wall, it needs to be the focal point of the room free from windows and cluttered fittings, in bedrooms this could be where the bedhead sits or in the lounge you may have a fireplace or mantle.    Make sure the feature wall ties in with the overall colour scheme of the room.   In a busy space feature walls can make a space feel smaller or more cluttered, in this instance you may be better off choosing a softer tone on all four walls or pairing it right back and adding colour through well chosen furniture, blinds and accessories.    See below for examples of the colour orange when used in a bedrooms working up from accessories to feature wall and then four-wall colour.    For the latest colour trends click here.
5. Think about your use of warm vs cool colours within your house –  I've delved into this one quite a bit in colour psychology above,  but essentially the message here is a location one! A hint of red, orange or yellows in your chosen colour can make a room feel warmer which is great for colder rooms on the southern side of a house.  Blue hues can make a suntrap area appear cooler too. For the latest colour trends click here.
6. White vs black trims, doors, windows and hardware…. It may seem an obvious message that white trims, doors, joinery etc will help achieve a more subtle look and black will do the opposite, but when your looking at any colours project this can dramatically change the desired effect and is worth considering.   It's well worth doing your research on the style of design you like before you choose your colour scheme. For example black  accents will help achieve a more industrial – architectural look within the home through items such as doors, windows, tapware, door handles, lighting etc. Other options can be softer neutral tones or wood.   Take a look at the simple difference between black or white fascia, windows and trims in this house exterior, it really does change the overall look.
7. Using high gloss can reflect light appearing brighter, this is useful in terms of kitchen stoneware and bathroom tiling. Whilst gloss can show up more marks it may make a bathroom appear more airy and brighter than duller matte surfaces. Glossier items through items such as mirrors, vases and sculptures can also give a feeling of luxury
8. Don't overdo your pattern or solid accent colours.   3 to 5 colours are a good balance for a room think 60%/30%/10% for a basic design rule. This includes a more dominant colour, supporting colours ( e.g. neutrals to anchor such as ceilings, door frames) and your accent colour for feature and effect.  You can also use neutrals for your dominant colours for a softer look and add your brighter supporting and accent colours from there. Depending on how bold you want your scheme…. its important to understand some basic design rules like the above or how to pair colours together though colour combination techniques such as monochromatic, harmonious/analogous, complementary and triad schemes on the colours wheel .   For the latest colour trends click here.
9. Multi wall colours ….for a feature or decorative look consider using a two or multi colour approach.  In character bungalows this can be achieved by having one colour from the floor up to a dado rail or from celings down to picture rails and a supporting colour for the rest. ( A Dado rail is also known as a chair rail, it's a type of moulding fixed horizontally to the wall around the perimeter of a room. A picture rail is the same but runs around horizontally at window frame or door frame height. )
10. Don't let colour samples fool you…For exterior colours bear in mind you naturally have alot of light so your chosen colour on mass will look alot lighter when painted  – often two or three shades lighter from the swatch to the eye! Check out this great link to Resene exterior colour selections for different coloured effects when simple features like doors or fascias are altered. If you can test pots are a great idea to get a feel for your chosen colour.