Pantone's Colour of the Year 2023 is Viva Magenta 18-1750, underpinned by nature from the family of reds, this expressive new colour is the symbol of strength, vim and vogour for 2023!
For home and design trends across the year the power of this colour will come through in paint, art, textiles and furnishings and for the more neutral homes it can be used boldly as a pop of colour!  Think ornaments, Resene Pohutukawa feature wall,  velvet throws, cushions , decorated walls, glassware, rugs and more!
 Viva Magenta is brave and fearless, and a pulsating color whose exuberance promotes a joyous and optimistic celebration, writing a new narrative. This year's Color of the Year is powerful and empowering. It is a new animated red that revels in pure joy, encouraging experimentation and self-expression without restraint, an electrifying, and a boundaryless shade that is manifesting as a stand-out statement. PANTONE 18-1750 Viva Magenta welcomes anyone and everyone with the same verve for life and rebellious spirit. It is a color that is audacious, full of wit and inclusive of all. – Pantone
Inspiration from Resene…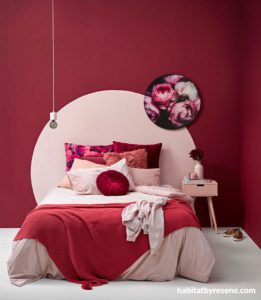 Resene Pohutukawa walls gives us Viva Magenta vibes, softened by a circle painted bedhead in Resene Dust Storm. Blue-based, burgundy reds are less energetic than tomato reds, making them more serene for bedrooms. A floor painted in Resene Double Rice Cake is also a great balance to the rich walls. The bedside table is painted in Resene Sakura and the vase is painted in Resene Sauvignon.
Further reading and inspiration…Resene reflections on Viva Magenta…
For the 2023 Colour trends report compiled by Design Your Home click here…