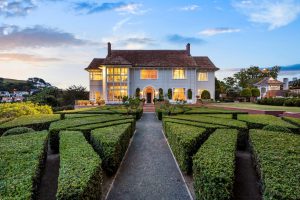 One of NZ's most prestigious country manors is up for sale. Take a peak at this 106 year old , 6 bedroom grandeur in Remuera designed by Benjamin Chilwell. According to Sotheby's luxury real estate, the house known as St. Ann's, was designed in 1914 for prominent businessman and philanthropist Charles Isaac Nathan, of the merchant family that founded Arthur H. Nathan and Co.
The entrance is on a grand scale followed by one character room after another known as the morning room, drawing room, sun room and library along with stunning dining and living rooms which flow out onto the garden.  The library features intricate wooden panels, button wingback and Queen Anne chairs for lengthy novel reading and brass railings on the mezzanine level which were apparently modeled on a poets' corner of the famous author, Sir Walter Scott.  The interior design style in the living areas is very modern-meets-monarchy with bold yet elegant colours across the feature rooms, an impressive floral patterned dining room and butterfly print dining chairs which would make Matthew Williamson proud,   along with a bright yellow sitting room, peach filled grand hallway and bold green master bedroom.  This flamboyant design style is then paired with an eclectic array of artwork, rugs and furniture. This is juxtaposed by a more peaceful and simple interior for many other bedrooms and bathrooms making these spaces more restful.
On the outside …it boasts the most stunning grounds which look to be curated and designed by specialist gardeners. The path to the front door is lined with cherry trees and feature spiral shaped buxus and to the side of the house is a maze garden of box hedging, manicured lawns, the box parterre garden and folly making this a truly magical English manor landscape.
Images Copyright Sotheby's real estate NZ