The kitchen designs we're very impressive this week with curved islands, stone benchtops, spacious butler pantry's and custom-made cabinetry; each kitchen had many wow factors for the judges.  Judge Neale Whitaker felt this was the best year yet for kitchen design and innovation shown by each team …saying "Over the years, we have seen lots of beautiful kitchens on The Block…But I've always felt that the kitchens that we've seen in the past have always reflected current kitchen trends whereas today, I feel like I'm seeing things that I haven't seen before. These are kitchens that are ahead of curve."
Daniel & Jade – 1930's – (WINNERS)
Cash spent: $16,284
Score: 29.5/30
A custom designed curved island bench by Christian Cole furniture was the winning formula for this team.  The curves and timber detail very 1930's and the judges we're all very impressed especially with the hidden whisky cabinet. The butlers pantry was very spacious filled with cookbooks, benchtop, additional oven, and plenty of storage.
Cash spent: $31,316
Score: 29/30
Jimmy & Tam won $120,000 Gaggenau kitchen appliances and this came to life at this stage so they indulged in two ovens ovens, two dishwashers, wine fridge, coffee machine and large fridge freezer and they even purchased 5K worth of wine for the fridge for any new home owner! They have used a terrazzo theme in this home and you could see accents of this in the kitchen with their terrazzo lighting and benchtop creating lovely continuity throughout the home. They chose a retro charcoal and mint colour combination paired with brass and oak which the judges just loved but may not be everyone's preferred style on auction day.
Cash spent: $23,474
Score: 29/30
A massive kitchen island benchtop from Caesarstone over 4m provides plenty of space to prepare and entertain from! A spacious butlers panty, grooved timber cabinetry, light-filled space and very functional layout make this a well designed kitchen for 2020.
Sarah & George – 1940's  
Cash spent: $20,860
Score: 28/30
The biggest feature of this kitchen was the Dolomite stone curved kitchen bench – a piece of art the judges said.  They also described it as immaculate but found a few functional flaws especially the overhead cupboard which judge Shaynna couldn't reach.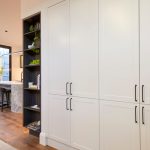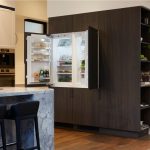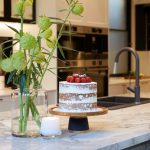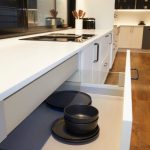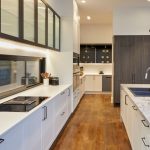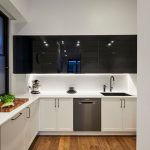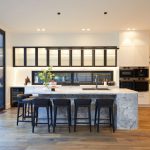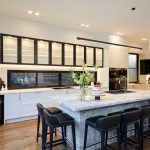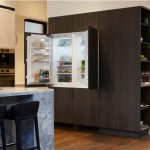 Luke & Jasmin – 1910's  
Cash spent: $22,922
Score: 28/30
A curved timber porta wall and island bench created some wow factor when entering this kitchen and the judges felt they added a real sense of warmth to the home.  The oak wood features we're paired well with simple white cupboards and brass accents. Another spacious butlers pantry with plenty of storage helping to make entertaining and everyday kitchen tasks enjoyable.