First up Week 1 on The Block Australia was the reveal of the guest bedrooms for each of the era-themed houses. The winners were Jimmy and Tam as they revealed a 1959 inspired guest room for their 1950's era home.
Jimmy and Tam Guest Bedroom Reveal
Spent: $14,258.07 / First place
My two cents worth about the design….What really works well in this room is the use of one or two colours giving a sense of sophistication yet simplicity. The lovely emerald green across the quilted bedding and subtle toned-down-tint of this appearing in the feature wallpaper paired with the mustard cushions all work really well.  The choice of brass for the mirror and bedside table giraffe is well thought out for this era and ties in nicely with the colours. Hints of eco and nature  through wooden bed and side tables, rattan lamps and rustic arrangements provide a lovely structure and speak to the the trend of more natural elements used in interior design at the moment. It's certainly a bright and light space thanks to the skylights and the soft white floor to ceiling curtains which help with this overall dreamy and airy creation of space.
The judges also had an immediate like for this space loving their use of four Velux sylights, wallpaper from Grafico, and even a secret door into what will be their guest ensuite bathroom, an extension of their wardrobe made by Kinsman cabinetry.  "I've walked into this room with an evident, powerful, emotional connection and I'm in love," judge Darren Palmer said."This one has got me by the heartstrings, it really does,"  "It feels so beautiful."  – judge Neale Whitaker said.
Take a close look and shop Jimmy & Tam's winning room HERE    Brands include Eadie lifestyle which is available from Republic NZ, Mantra roller blinds from Carpet Court NZ, Velux NZ Flat Roof Solar Skylight , Weave homeware NZ,  Grafico wallpapers available online.
Daniel and Jade Guest Bedroom Reveal
Take a close look and shop Daniel & Jade's room HERE
Spent: $15,691.96 / Second place
Harry and Tash Guest Bedroom Reveal
Take a close look and shop Harry & Tash's room HERE
Spent: $14,152,24 / Third Place
Sarah and George Guest Bedroom Reveal
Spent: $15,137.16 / Fourth Place
Take a close look and shop Sarah & George's Block room HERE
Luke and Jasmin Guest Bedroom Reveal
Spent: $17,156.89 / Fifth place
Take a close look and shop Luke & Jasmin's room HERE
We'll cover the weekly room reveals and winners of each stage here on Design Your Home NZ… where possible we'll also feature products available in NZ!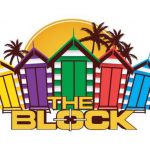 ABOUT THE BLOCK AUSTRALIA
The Block 2020 Australia premiered on Sunday August 23, where the new season will take place in the bayside suburb of  Brighton in Melbourne, with five teams taking on the challenge.    F
ive period homes from the 1910s, 20s, 30s, 40s and 50s, all in need of some serious renovation have been transported to a block of land in the heart of sunny and affluent Brighton in Melbourne.  The setting is a huge block of land running along the prestigious foreshore of Port Philip Bay, Melbourne. They are within walking distance of the beach and minutes from the world- famous Brighton Beach Boxes… 
Meet the teams…
1910's – Luke(35) and Jasmin (36) — Chippy and teacher from Perth.
1920's – Harry (57) and Tash (32) — The first father and daughter renovation duo, an IT manager and a social media project manager from Melbourne.
1930's – Daniel (35) and Jade (34) — Farmer and hairdresser from Wandearah in South Australia.
1940's – Sarah (27) and George (33) — Teacher and electrician from Sydney.
1950's – Jimmy(33) and Tam (31) — Plumber and bar manager from Brisbane
"We always change our show up and make it fresh and I think this is a great way of doing that, by having houses themed according to different decades.  I love that we are getting back to renovating family homes as well. People can watch The Block and see what the contestants are doing and get inspired to do it themselves." …Scott Cam, the host of The Block Australia.
The show is hosted by Scott Cam along with co-host Shelley Craft, judges Neale Whitaker, Shaynna Blaze and Darren Palmer, Foreman Keith Schleiger and his right-hand man (and former Blockhead), Dan Reilly.
Stats about Brighton according to The Block…
-Brighton is 12 kilometres from the Melbourne CBD.
-The median price for a four-bedroom house is $2.9 million.
-The median price for a five-bedroom house is $3.68 million.
-The last reported sale of a rare Brighton Beach Box was a remarkable $340,000 in 2019.
-Brighton is easily accessible via Melbourne's Nepean Highway.
A decision to halt filming was made on March 25, due to COVID-19, an unprecedented move in the show's history. Eventually teams were allowed to return to site with a host of new safety measures and precautions in place.
We'll cover the weekly room reveals and winners of each stage here on Design Your home NZ… where possible we'll also feature products available in NZ!