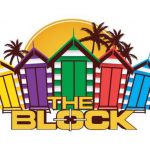 The Block 2020 Australia premiered on Sunday August 23, where the new season will take place in the bayside suburb of Brighton in Melbourne, with five teams taking on the challenge.   Fans of The Block NZ are going to have to wait another year when the show resumes in 2021, a delay due to the Covid pandemic… until then let's take a look at The Block Australia now airing on Nine network.
Five period homes from the 1910s, 20s, 30s, 40s and 50s, all in need of some serious renovation have been transported to a block of land in the heart of sunny and affluent Brighton in Melbourne.  The setting is a huge block of land running along the prestigious foreshore of Port Philip Bay, Melbourne. They are within walking distance of the beach and minutes from the world- famous Brighton Beach Boxes… some 82 brightly coloured beach huts on the esplanade which people own and store anything from deck chairs, beach games and a cool place to shelter whilst having a day at the beach.
Stats about Brighton according to The Block…
-Brighton is 12 kilometres from the Melbourne CBD.
-The median price for a four-bedroom house is $2.9 million.
-The median price for a five-bedroom house is $3.68 million.
-The last reported sale of a rare Brighton Beach Box was a remarkable $340,000 in 2019.
-Brighton is easily accessible via Melbourne's Nepean Highway.
"We always change our show up and make it fresh and I think this is a great way of doing that, by having houses themed according to different decades.  I love that we are getting back to renovating family homes as well. People can watch The Block and see what the contestants are doing and get inspired to do it themselves." …Scott Cam, the host of The Block Australia.
Meet the teams…
1910's – Luke(35) and Jasmin (36) — Chippy and teacher from Perth.
1920's – Harry (57) and Tash (32) — The first father and daughter renovation duo, an IT manager and a social media project manager from Melbourne.
1930's – Daniel (35) and Jade (34) — Farmer and hairdresser from Wandearah in South Australia.
1940's – Sarah (27) and George (33) — Teacher and electrician from Sydney.
1950's – Jimmy(33) and Tam (31) — Plumber and bar manager from Brisbane
Also returning to the show are co-host Shelley Craft, judges Neale Whitaker, Shaynna Blaze and Darren Palmer, Foreman Keith Schleiger and his right-hand man (and former Blockhead), Dan Reilly.
A decision to halt filming was made on March 25, due to COVID-19, an unprecedented move in the show's history. Eventually teams were allowed to return to site with a host of new safety measures and precautions in place.
The first week will be the guest room reveal which we'll cover in full here on Design Your home NZ.