Our new regular feature My Home Project will go through an entire house plan and offer our top design picks room by room based on the latest trends! Whether it's a new build or renovation project you have on the go, this feature will offer you some handy inspiration.  We'll give you moodboards, a product wishlist sourced from NZ suppliers, budgeting advice and practical design tips to help motivate you in designing your home.
Building a new home?   
The journey can be one of the most rewarding, exciting and challenging things at the same time. Check out our top tips based on our experience of building a new home. There are some great resources online which I've listed too, my favourite being Consumer NZ's Step-by-step guide.
Other useful links from Design Your Home…
PROJECT 1:  MODERN-FARMHOUSE
This conceptual project is based on a spacious 4 bedroom family home. A contemporary farmhouse design with plenty of natural light and features including fireplaces, vaulted ceilings, exposed beams, separate laundry, plenty of storage, study nook and extended gables over patio area for shelter.  Design touches are key to enhance the exterior and plenty of space is devoted for outdoor entertaining all year round. The natural elements are important reflecting the sky, rivers and forest within the build and materials used.   For interior decor and styling, a mix of elements from vintage chic, French-country looks through to the minimalism approach of Scandinavian design are the focus.
KITCHEN
This week we take a look at the kitchen design, the heart and sole of the home and a space which you should devote a reasonable budget. Kitchens can range from 15k to 100k+ NZD depending on how much you are altering the space!  Set yourself a budget before you visit a designer and make sure this includes enough for design, cabinetry, plumbing, electrical and any new appliances.   Kitchens can quickly become small and cluttered if you don't have the right space so check out my top things to consider.   Do as much research as you can for a designer and make a good Pinterest board or collection of images showing the styles you prefer.  This will save time and narrow down your ideal look.    Research any new appliances before you meet your kitchen designers so they know dimensions, colour and style as this will help them with the layout and the look and feel of your kitchen.
INSPIRATION…The kitchen design I've gone for is a balance between modern farmhouse and beach vibes given the cool blue tones of darker cabinetry, white back splash tiles, grey benchtops, herringbone pattern wood floor with hints of brass in tapware and handles.  Pantones colour of the year for home design is Classic blue and it's proving so popular right now throughout the home.  I've softened the contrast between blue and white through grey benchtop and overhead cupboards.  A standout is the white sink and brass taps, a lovely change from the pewter look we've seen for a long time now.
Design Your Home NZ –  Kitchen Moodboard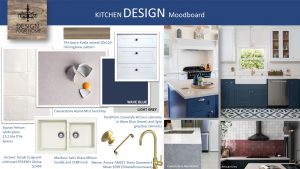 NZ products chosen…
NZ suppliers…
UP NEXT… WE'LL TALK ABOUT THE EXTERIOR!